Left, a teen drug addict at Riverside Hospital is administered a shot in the arm. Right, a teen addict patient examines a Rorschach test.
In 1952, Riverside Hospital established Special School #619, an institution for rehabilitating drug-addicted teenagers. The idea was that by isolating the teens as far away from the corrupting forces of the city — the overcrowded hospitals and jails — they'd be better able to recover from addiction.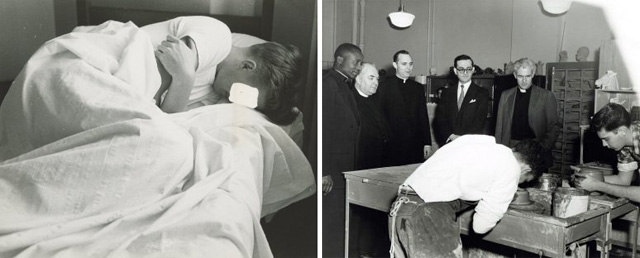 Left, a teen addict curls up in bed.  His face was whited out due to being underage. Right, a pottery class for teen patients. Three clerics look on.
Located on North Brother Island in the East River between Queens and the Bronx, Riverside Hospital was once a hospital for infectious diseases. Patients with smallpox, polio, typhoid, and tuberculosis were shuttled to the island to prevent the diseases from spreading further in the city. During the turn of the century, the hospital was the detainment site for "Typhoid Mary", the first asymptomatic carrier of typhoid fever.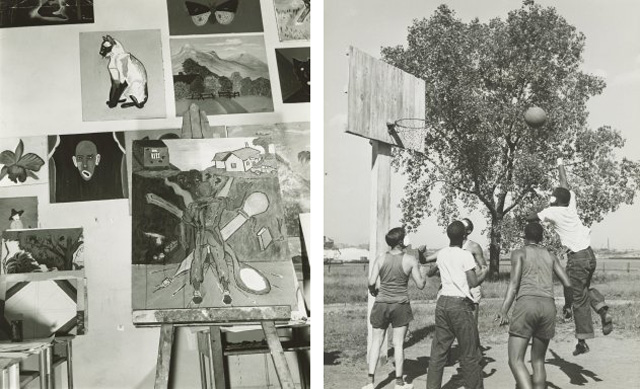 Left, paintings by teen addicts at Special School #619. Right, patients play basketball outside.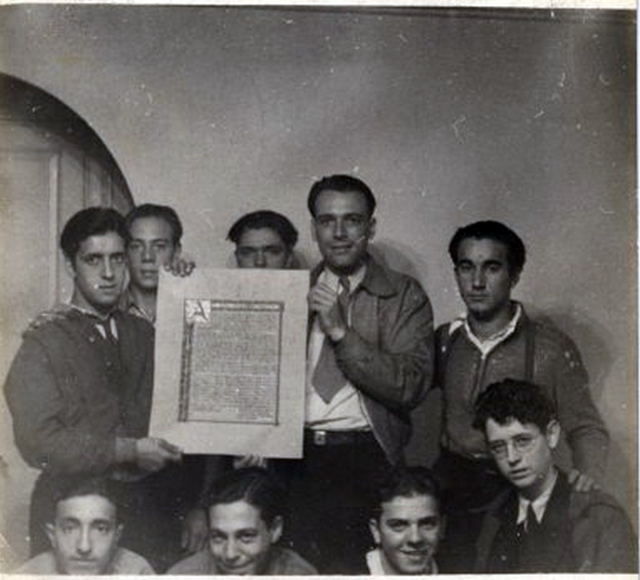 Teens hold up a citation notice.
Special School #619 rehabilitated 100 young men and 50 young women at a time. The maximum stay was six months. Upon arrival, new patients were searched, bathed, and usually left in observation to go through the withdrawal period "cold turkey." It was the first institution of its kind to deal with young addicts.

Riverside Hospital's main entrance. Right, a pottery class for the patients at Special School #619.
After a decade, Riverside Hospital was failing. The administration had turned rife with corruption and patient recidivism rates were high. The Hospital shuttered in 1963 and North Brother Island has been abandoned ever since.
images via the NYC Department of Records.