Estelle Ellis Rubinstein, a founding promotional director of Seventeen Magazine in 1944, died on July 1, 2012. Rubinstein created "Teena", a 16-year-old, 5-foot-4, 118 pound girl whose aspirations were to go to college, marry and stay at home.  Teena was used in advertisements and promotional pitches to potential advertisers as a symbol of the untapped demographic of "teen-aged" (at that point, a still hyphenated word) girls.
"Teena won't take no for an answer when she sees what she wants in Seventeen."  said an advertisement written by Ms. Rubinstein.
Teena was seen ignoring suitors for the magazine, narrowly missing collisions with trees because of being so engrossed in it, and demonstrating that "unlike her older sisters, every teenager wants to look almost like every other teenager."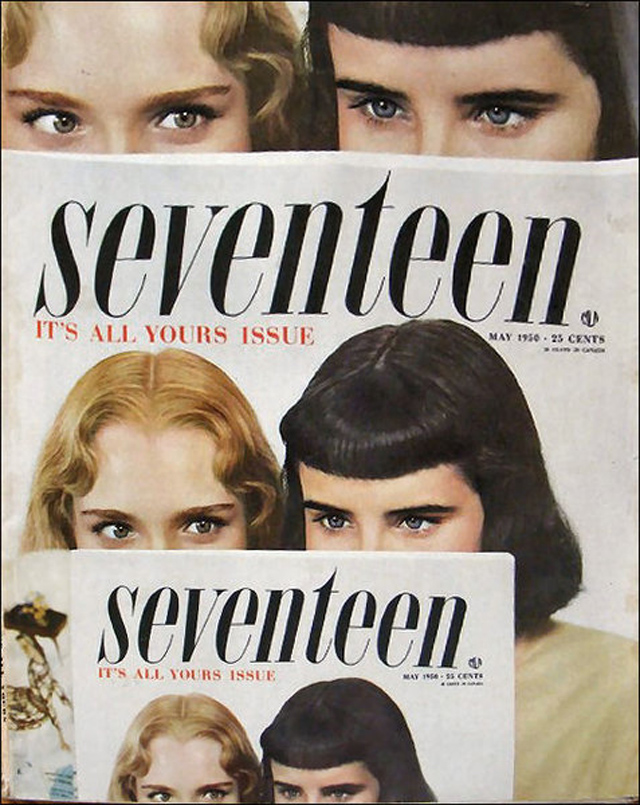 After Seventeen, Rubenstein launched Charm magazine, the first magazine directed towards "working women". She went on to create the first market research studies to establish working women and teenage girls as distinct and valuable markets.  The promotional items she created reflected back to unique angle of her emerging market.  She created a price guide in the form of a handwritten shopping list on a paper bag, a press release tied in ribbon like a bundle of love letters.
Read the NYTimes obituary here.
Images via here.