Sylvia Plath began keeping a journal at age eleven and continued to keep one through her teenage years and until her death at the age of thirty. We remember her as a somber, tortured poet but entries from 1950, when she was eighteen, shows her as quite the opposite. 
"I love people. Everybody. I love them, I think, as a stamp collector loves his collection. Every story, every incident, every bit of conversation is raw material for me. My love's not impersonal yet not wholly subjective either. I would like to be everyone, a cripple, a dying man, a whore, and then come back to write about my thoughts, my emotions, as that person. But I am not omniscient. I have to live my life, and it is the only one I'll ever have. And you cannot regard your own life with objective curiosity all the time…"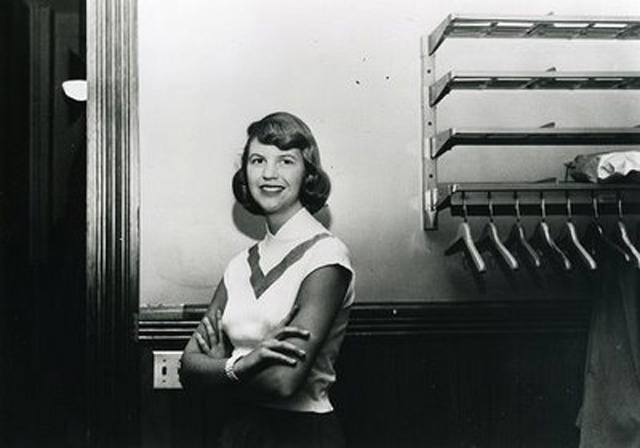 Another entry from the same time period details the complicated relationships of teenage girls.
"Tonight I saw Mary. Jack and I were pushing out of the theater in a current of people, and she was edging the other way in a dark blue jacket. I hardly recognized her with her eyes downcast, her face made up. But beautiful. "I've been looking all over for you," I said. "Mary. Call me, write me." She smiled, a little like the Mary I used to know, and she was gone. I knew I would never have a friend quite like her. So I went out in a white dress, a white coat, with a rich boy. And I hated myself for my hypocrisy. "I love Mary. Betsy is nothing buy fun; hysterical fun. Mary is me… what I would have been if I had been born of Italian parents on Linden Street." She is something vital, an artist's model, life. She can be rude, undependable, and she is more to me than all the pretty, well-to-do, artificial girls I could ever meet. Maybe it's my ego. Maybe I crave someone who will never be my rival. But with her I can be honest. She could be a prostitute and I would not give a damn; I'll never deny her as a friend."
Excerpted from The Unabridged Journals of Sylvia Plath, 1950-1962.