I recently stumbled across the embarrassment that is a box full of the things I had pinned up all around my bedroom in high school. I had a classic teenage bedroom where minimalism is a foreign word and I really couldn't tell you what color the walls were because you could not see them. I love that teenage bedrooms are still the same 10+ years later (and 10 years prior), evident in these photos taken by Olivia Bee recently.

My friends and I were always making collages for each other—so I honestly cannot remember if I made these or someone else made them for me. But they encapsulate some of my interests/obsessions: going to raves, riot grrls, veganism, bad ass girls, boys with spiky hair, drawing pretty girls, and so on. The rave flier is one of the few I saved, a little reminder of a time I hope to never revisit, and what to be terrified of when I have a teenager someday.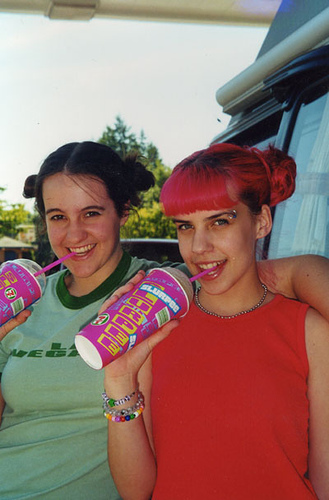 —Kate Miss is a graphic designer (www.katemiss.com), blogger (www.forme-foryou.com), and jewelry designer (www.shop.forme-foryou.com) living in Los Angeles.