We are pleased to announce the first installment of Freak Party mixes. In the 1920s Bright Young Things hosted wild 'freak parties.' Freak Party mixes, made by friends, are soundtracks of youth. Music connoisseur Anh Do compiled 'Joytown' inspired by her song obsessed teen years in Orange County—
This mix is inspired by both the idea of teens making music for teens and by the music that defined my high school years in early 90s suburban Orange County. The prior represents years of obsessive music collecting, culling tracks from often forgotten corners of pop history. The latter marks the start of that process, the moment when my sensibility crystallized and music became a lens through which I viewed the world. I was a teenage shoegazer. While a lot of early 90s rock music favored an abrasive vocal and instrumental style, I opted for a more melodic, "clean" sound, with soaring hooks featuring two, or even three part harmonies. My friends and I were obsessed with shoegaze, Madchester, and twee bands and went to as many shows as we could afford. I would spend all of my allowance money on band t-shirts.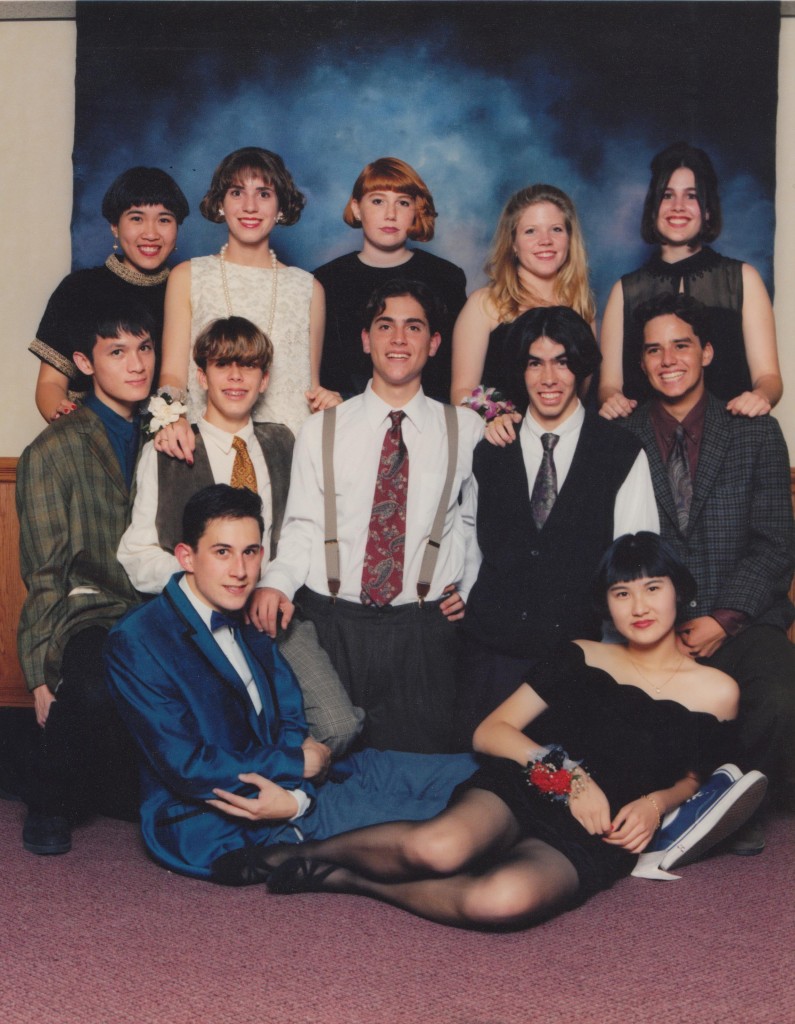 age 16, homecoming
These were pre-internet days of course, so I had to rely on music weeklies like NME and Melody Maker, mail order zines and weekend trips to Berkeley's Mod Lang Records to keep up, hunting down every last Sarah Records single, obscure zines and flexi-discs in the far corners of California. The music I obsessed over was made by people only a few years older than me, and there was something proximate, almost tangible in this. Then friends started bands, putting out 7″ singles and cassette tapes. Hopskotch, Emily's Sassy Lime and Black Fantastic (whose founder now leads Holy Shit) are all included on this mix. Special mention goes to A New Personality, whose then teen brothers would later form further, Beachwood Sparks and The Tyde.
age 17, best friends

As this mix has taken shape over the past week—talking to friends to jog my memory and tracking down songs I hadn't heard in years—memories have come flooding back. Joytown, this mix, takes its name from a song by The Wonder Stuff. Twenty years ago this same song also served as the namesake for a dilapidated tool shed in the back parking lot of an apartment building in Huntington Beach where we would hang out, listen to music, drink and smoke cigarettes. On special occasions we would get to see local bands like Wiskey Biscuit play, kids just a couple years older than us, but whom we considered gods.
JOYTOWN
► Download
here
(to be enjoyed in no particular order)
Andy Kim – Shoot 'Em Up Baby  (1968)
Aztec Camera – Lost Outside The Tunnel (1981)
Black Fantastic – Forgotten Again (1994)
Box Tops – Soul Deep  (1969)
Bratmobile – Cool Schmool (1992)
Cat Stevens – I Love My Dog  (1966)
Chapterhouse – Autosleeper (1991)
Dolly Mixture – Everything & More (1982)
East River Pipe – She's A Real Good Time (1993)
Emily's Sassy Lime – Teenage Heart Attack. (1995)
Girls At Our Best! – Warm Girls (1981)
Happy Mondays – Kuff Dam (1991)
Heavenly – C Is The Heavenly Option (1992)
Hopskotch – A Brilliant Time (1991)
Inspiral Carpets – This Is How It Feels (Radio 1Session) (1989)
LiliPUT – Die Matrosen (1980)
Mimi & Richard Farina – Reno Nevada (1965)
A New Personality – Waterfall (1981)
Pearl Harbor – Lost @ Sea  (2009)
Ride – Taste (1990)
Saint Etienne – Nothing Can Stop Us (1991)
The Sea Urchins – Pristine Christine (1987
The Shaggs – Philosophy of the World (1969)
Small Factory – Valentine (1993)
Velocity Girl – Forgotten Favorite (1993)
Wiskey Biscuit – I Don't Believe In Yesterday (1991)
When Anh Do was a teenager she spent all her money on pop records and clothes. She snuck into shows and loved to gossip. Now she lives and works in L.A. She still loves music and dabbles in that biz on occasion. She's mostly given up gossiping for sharing — owleypatrol.com
– bio written by Matt Fishbeck – photographs courtesy of Anh Do, featuring Anh Do.