Three members of girl band Pussy Riot have been sentenced to two years in jail for reciting an anti-Putin "Punk Prayer" to the Virgin Mary last February at Moscow's Christ the Savior Cathedral.
Pussy Riot supporters have taken to the streets and the web, declaring their support through word, art, and action.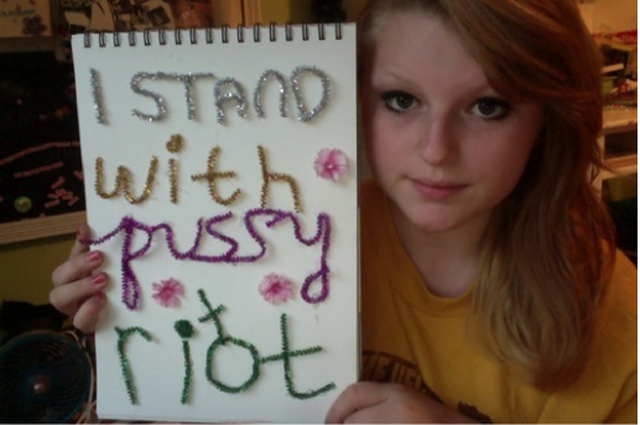 Rookiemag.com asks teen girls to tumble pictures in support.
Here at TEENAGE, we want to show our support for Pussy Riot (see our previous post) and protest their unjust sentence by sharing words of support for Yekaterina Samutsevich, Maria Alyokhina and Nadezhda Tolokonnikova from around the web, paired with images of solidarity from around the world.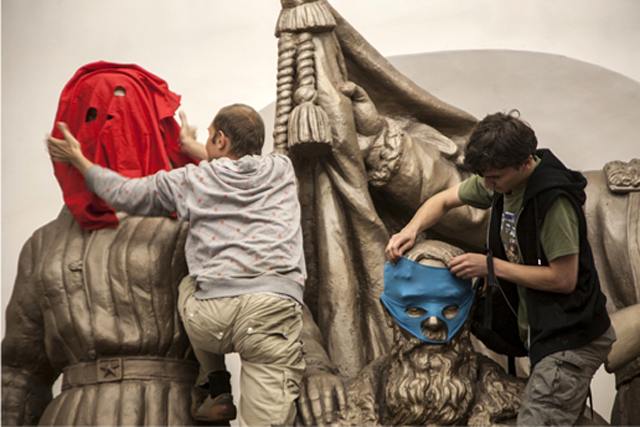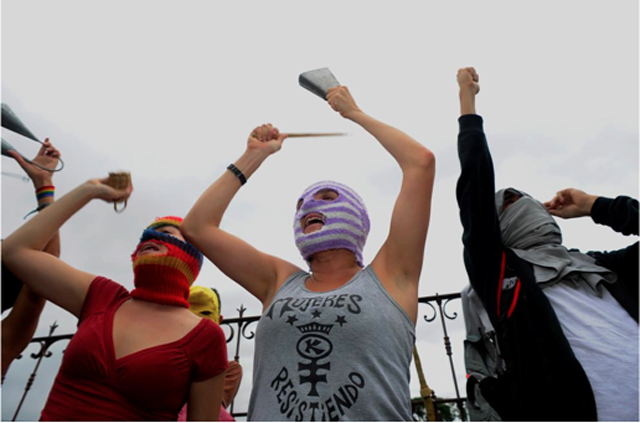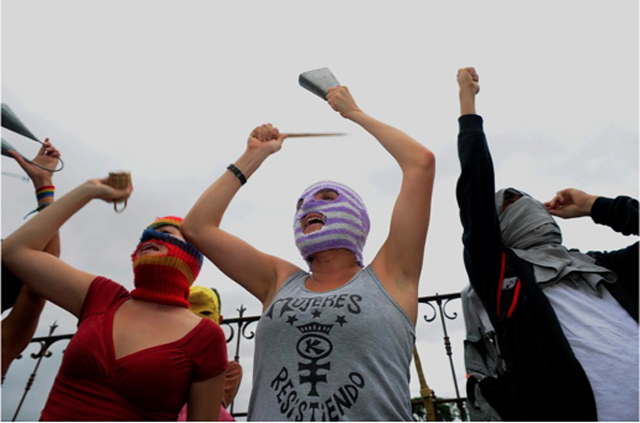 [Pussy Riot] could be a source of inspiration that grows and grows, and spreads and spreads, in a way that is natural because it is coming from the Pussy Riot Three, and all of that excitement and fear.
 Everyone is always asking me, "How do we restart riot grrrl?" And I'm like, "Don't." Because something's organically going to happen on its own; you can't force it. Who wants to restart something that's 20 years old? Start your own fucking thing. This could be a part of a lot of people starting their own fucking thing. – Kathleen Hanna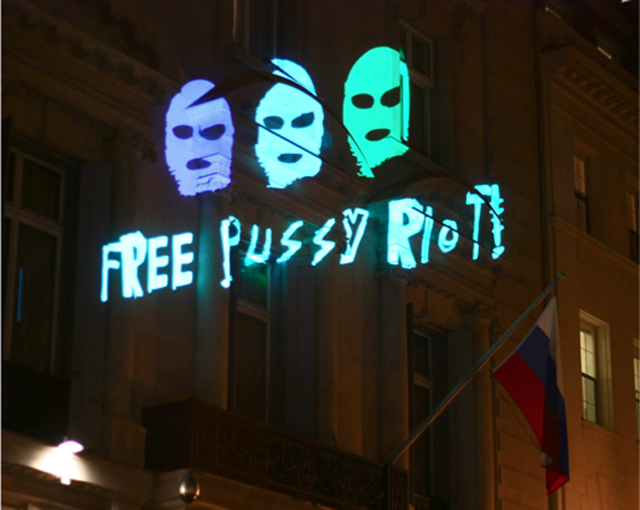 The Illuminator projects a message of solidarity on the Russian Consulate in New York.
The guilty sentence of "criminal hooliganism" and "acts of religious hatred" has inspired world-wide protest, hacks on Russian government websites, and even some tattoos.
"Vladmir Pussy." Pro-Pussy Riot graffiti art in Berlin.
We are not guilty; the whole world says so. The whole world says it at concerts, the whole world says it on the internet, the whole world says it in the press. They say it in Parliament. The Prime Minister of England greets our President not with words about the Olympics, but with the question, "Why are three innocent women sitting in prison?" It's shameful.  –Pussy Riot member Maria Alyokhina, from n+1.
Free Pussy Riot! By Peaches
Pussy Riot is about something where you can only feel it speaking in your bones, your crotch, as speakers blare and you feel a thumpthumping that's almost like a heart but it's angry, it's someone knocking on all your doors, come out, it's a riot. It's the two seconds before a pit opens. It's the spilt second before you know it's a mob outside city windows. It's the moment as a girl growing into a women where you looked in a mirror (in the afternoon after swimming all day) and knew that suddenly no one owned your body, and the deed could be made out to you. Pussy Riot is the dream of all women, and men for the matter, in all countries, walking down the street even in the mouth of night and not being afraid. Pussy Riot is not being afraid. – An Open Letter To Pussy Riot, by Alex Melnick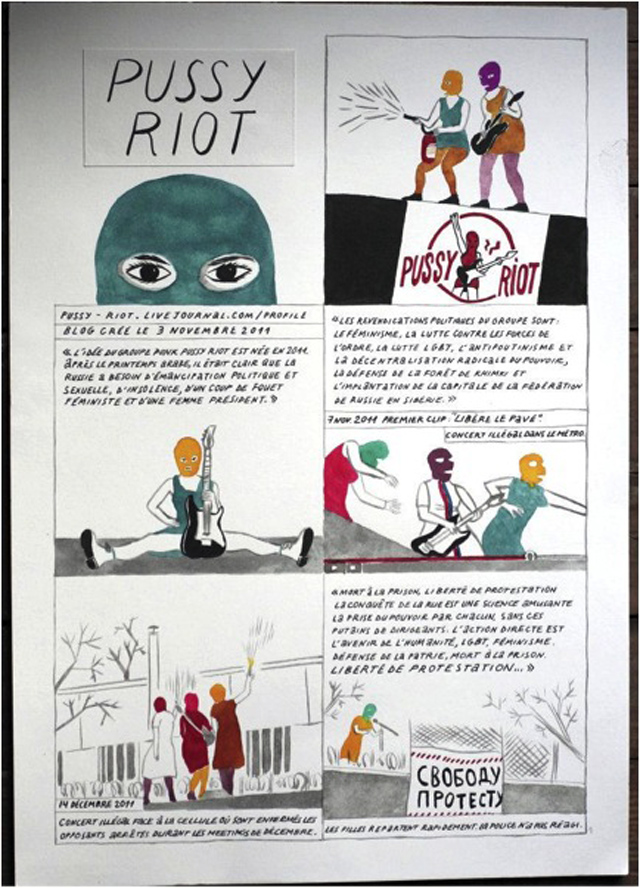 A French comic about Pussy Riot. Read how it all began here.
Pussy Riot are the antidote to all invisibility. They made it impossible for the regime to practice any of their Houdini maneuvers, to cover them up like an embarrassed cough. Pussy Riot have made the world look. Have made the world see. – Fran Lock, with the 'Flatrock' Women's Irregulars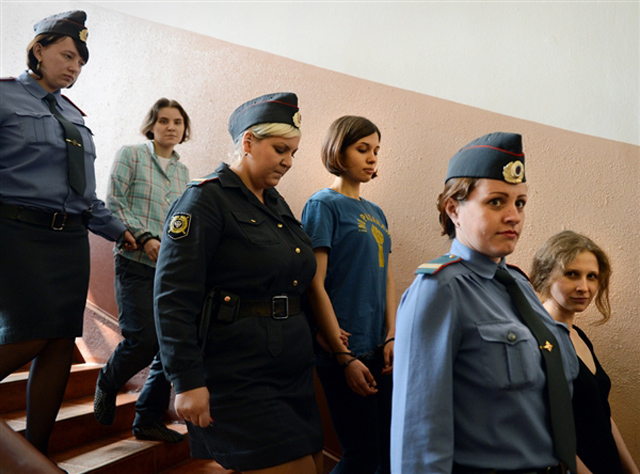 Nadezhda Tolokonnikova, center, Maria Alyokhina, right, and Yekaterina Samutsevich on the way to their trial. Three other members, interviewed here are in hiding.
Show your support by contributing your words, art and action at Lets Start A Pussy Riot, http://eng-pussy-riot.livejournal.com, amnesty.org.uk and Put Out Putin.